Long Hair Chihuahuas
The Long-haired Chihuahua is classy spunky and full of personality.
The Long-haired Chihuahua is one of two recognize types of Chihuahuas, the other is the Short-haired Chihuahua or Smooth-coat Chihuahua. The Long-haired Chihuahua has a fluffy sleek appearance due to soft, fine guard hairs padded with a soft undercoat. Scroll down for some tips and care of their longer coats.
Our Long Hair Male Chihuahas
Our Long Hair Female Chihuahas
About the Long Coat
MOST long haired Chihuahuas have 2 coats of fur and are actually smoother to the touch than shorts. They have soft, fine guard hairs and a downy undercoat, which gives them their fluffy appearance.

Long Coated Chihuahuas can take a little time to get their full coats, sometimes up to 14-24 months of age. The texture of the coat is soft and can be either flat or slightly curly with or without an undercoat (although most do have 2 coats).

 Usually, males have a larger ruff around the neck and more hair than the females do. Also occasionally their ears are heavier and have a harder time standing up. Sometimes the heavy the ears will flop over on the tips, but they can hold them up at will, and the heavy ear can be upright all the time.

 Others have the paper thin ears and they have no trouble standing up. The ear that is not upright at a 45 degree angle is a disqualification in the show ring only.

The Long-haired Chihuahua requires no trimming of its coat, which can actually take up to two years to fully grow out, and needs very little grooming.

The Long-haired Chihuahua does shed, but it actually sheds less than it's Short-haired counterpart.

It will be necessary to remove hair from the furniture and vacuum on a regular basis.
Grooming a Long Coat
Long coats need do require much more brushing than short coats, but still require moderate grooming. The long coated needs a good brushing and combing once a week.
 The one element that will differ is that you will want to take care to search for any mats (tangle hair that knots up), as if they are not taken care of they can grow larger and larger, until you have a big problem and the mat may need to be cut off.
If you search for any mats at least 1 time per week, you can catch them early and fix them by covering your hands with conditioner and working the mat out by hand, slowly and gently.
 The bib or ruff of the long coats may need extra washes as food can become easily attached to that area.
Check the bottom of paw pads. With a long haired Chihuahua, straggly hairs can grow out from between the pads. This can cause discomfort for the dog and additionally it can cause traction issues. Clip any stragglers to be level with the pads.
While there will be light shedding throughout the year, it may increase to a more moderate shed twice per year; especially for that that reside in areas that experience all 4 seasons.
This happens during the onset of autumn when a change in temperature and few hours of sunlight trigger a shed of the summer coat to a thicker winter coat.
The 2nd noticeable shed will be during the spring time when day time hours increase and temperature rise. The heavy winter coat of the long haired Chihuahua will be replaced by a slightly thinner summer coat.
 For females, there will often be a 'blowing of the coat' when entering the heat cycle. This means that there will be extra shedding during that time due to hormonal changes. It is also common for females to "blow a coat" after giving birth.
Content composed from www.petchidog.com and www.dogs.animal-world.com
CONTACT US
Chihuahuas and Miniature Dachshund


Sandra Nieuwoudt
Tel. 0825502476
Fax. 0865642264
sandrade@telkomsa.net
KUSA membership 187574


OUR LOVABLE CHIHUAHUAS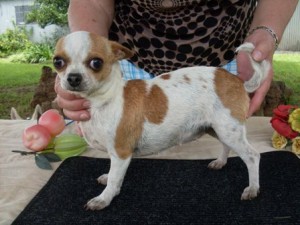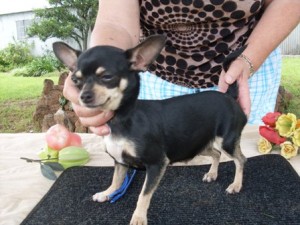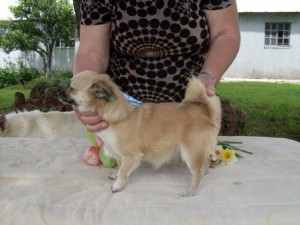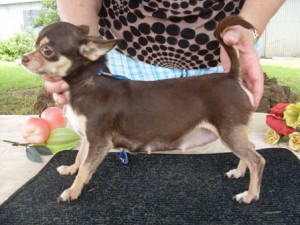 Recent Posts
Regsitration Papers
All puppies come with registration papers, please let us know if you have not received yours.