Santitia Kennels – Breeder of Chihuahuas and Miniature Dachshunds
Chihuahuas and Miniature Dachshund Puppies
SANTITIA KENNELS breeds long and short coat Miniature Dachshunds and Chihuahuas.
Our kennel is a family affair and although four breeds sounds like a mouthful, the tasks and dogs are spread throughout the family, ensuring some very pampered beasts.
I love and adore the smaller breeds and together with my wonderful husband breed the Miniature Dachshunds and Chihuahuas.
ROCCO thinks he is my shadow and does not let me out of site for a moment. He would have loved to join me at work, in the shower or anywhere possible.
Santitia Miniature Dachshunds and Chihuahuas puppies.
Our litters are carefully planned from a healthy selection of well-cared-for dogs. Breeding is carried out on a rotation basis, to allow each female to live a normal happy life and produce only when her body is ready to carry healthy puppies. No animals are kept in small cages without any socialisation. Our dogs and puppies mix freely with the human and canine family . Moms and pups are kept inside the house to ensure they get the best possible care. At times dogs are kept in small camps, such as at night, or when they are on heat, for their own protection.
We are situated in Vryburg, North West Province. Puppies can be send by plane from Bloemfontein airport to all major airports in the country, at expense of the buyer.
Road transport also available to,Johannesburg, Pretoria, Kimberley, Upington and Bloemfontein
PLEASE NOTE:
We do NOT approve or adopt any mass breeding practises. We never sell any pup that is not healthy and lively!
Santitia kennels is proud to show their
Miniature Dachshunds and Chihuahuas champion dogs!
CONTACT US
Chihuahuas and Miniature Dachshund


Sandra Nieuwoudt
Tel. 0825502476
Fax. 0865642264
sandrade@telkomsa.net
KUSA membership 187574


OUR LOVABLE CHIHUAHUAS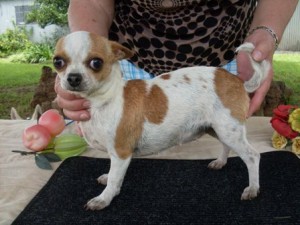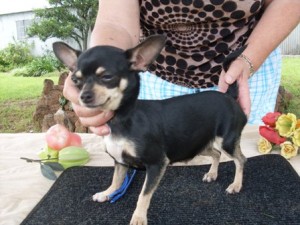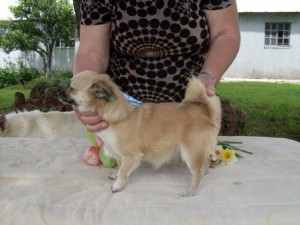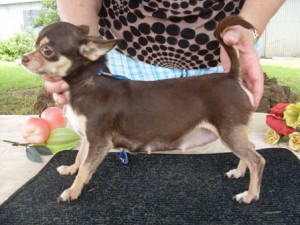 Recent Posts
Regsitration Papers
All puppies come with registration papers, please let us know if you have not received yours.