About Chihuahuas
Chihuahua Facts and Care tips
Breed
The smallest dog breed in the world is the Chihuahua, classified as a toy breed. The smallest of the smallest are called a teacup Chihuahua. Long haired Chihuahuas and short or smooth hair Chihuahuas are distinguished, but they are not registered as different breeds.
History
Discovered in Mexico in 1850, the Chihuahua were sometimes bred for food, used in religious ceremonies and were highly prized by royalty. Chihuahuas are speculated to be descended from Chinese hairless dogs and ancient Mexican breeds.
Description
Chihuahuas are:
small dogs (toy breed)
large heads
pointed muzzles (known to reverse sneeze)
prominent, dark eyes
short or long coat
variety of acceptable breed colors
sizes of males and females are similar
average height of 15 – 22 cm
average weight 0.5 – 2.7 kg
Care and Feeding of Chihuahuas
Chihuahuas do best on a diet that is composed of poultry and brown rice. They can be sensitive to some foods, and beef is not suggested for their diet. Give your Chihuahua a bath monthly, but be careful not to get water into its ears. Nails should be trimmed as needed.
Chihuahuas should have annual check-ups, and update their yearly vaccination boosters.
Chihuahua Housing Requirements
Chihuahuas enjoy playing with small toys but take care of small plastic parts that could be swallowed.
Chihuahuas need a warm bed and housing and will often find a cozy place to snuggle up in and go to sleep.
Do take care as they are very small and may easily be sat on or stepped on under blankets or furniture covers.
Social Behaviors
As Chihuahuas are very loyal to their family, and uniquely focused on keeping their keeper happy, they may become possessive of their loved one. For this reason they are not so sociable with other humans and children. They do get along with other canine friends especially other toy breeds, but may become aggressive around bigger dogs and other types of pets.
They are excellent Guard Dogs and will launch their "song of their people" as burglar alarm.
Handling and Training
Chihuahuas are intelligent and fast learners, but their strong willed nature can make them difficult to train. Positive reinforcement and patience are the most effective, focus on their undying love for their keeper and their approval.
They need short daily walks, and also enjoy playing both indoors and out.
For both varieties, care should be taken on hot, humid days with outdoor walks limited to mornings and later in the evening when the sun is lowest in the sky. Always bring water and a travel bowl for walks longer than 20 minutes.
For long excursions, be sure to take breaks in the shade, allowing the Chihuahua to have a short respite from the sun and rest up before continuing.
Common Health Problems
The design of the Chihuahua's eyes and nose make both susceptible to problems, including wheezing, colds, and glaucoma. They may also suffer from rheumatism and stress. They should be seen by a vet if they display signs of these problems.
Content composed from www.petchidog.com and www.dogs.animal-world.com
CONTACT US
Chihuahuas and Miniature Dachshund


Sandra Nieuwoudt
Tel. 0825502476
Fax. 0865642264
sandrade@telkomsa.net
KUSA membership 187574


OUR LOVABLE CHIHUAHUAS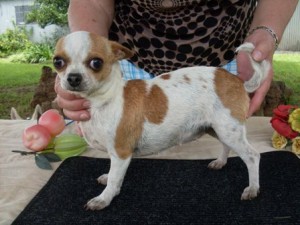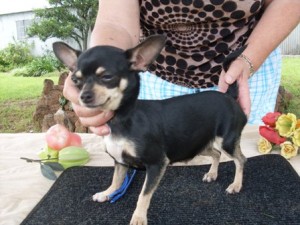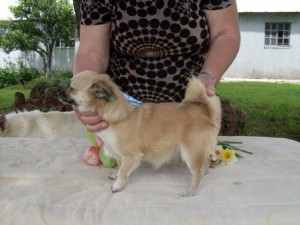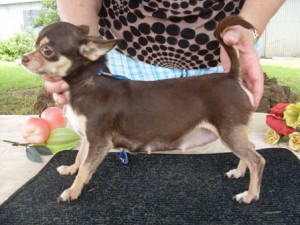 Recent Posts
Regsitration Papers
All puppies come with registration papers, please let us know if you have not received yours.