Short Hair Miniature Dachshund
Smooth Coat or Short Haired Miniature Dachshunds
Miniature Dachshund are long backed, short legged dogs of diminutive size. While small, the Dachshund is still muscular and powerfully built with a deep, broad chest and well-developed forelegs. The forehead blends into the muzzle creating an elongated look to the skull. The eyes are dark, almond shaped and intelligent looking. The ears are high set and long.
Our Smooth Hair Miniature Dachshunds colour vary from black with tan markings or a solid reddish-brown colour, and we also have .reds, dappled, with tiger markings, or brindle.
Miniature simply refers to a smaller size of less that 5 kg's and about 17 cm high at the wither.
The Short coat or smooth haired Miniature Dachshund are similar to all dachshunds in that they are an intelligent breed but with a mind of their own. Therefore, they are not that easily trained. It is recommended that firm, consistent training techniques be used to overcome the dog's natural tendency to dominate, while not incurring a sense of injustice. Unfairly treated, a dachshund will sulk at length. Early socialisation is required in order to acclimate dachshunds to children, strangers and other animals. They are a breed that becomes quite attached to their family and usually one family member in particular, however, they will be less friendly with strangers.
Copy courtesy of http://www.purina.com.au/
Our Male Smooth Hair Miniature Dachshunds
Our Female Smooth Hair Miniature Dachshunds
CONTACT US
Chihuahuas and Miniature Dachshund


Sandra Nieuwoudt
Tel. 0825502476
Fax. 0865642264
sandrade@telkomsa.net
KUSA membership 187574


OUR LOVABLE CHIHUAHUAS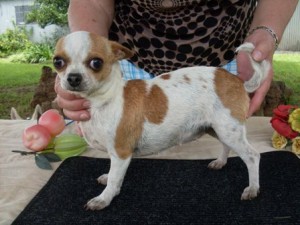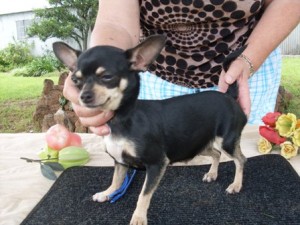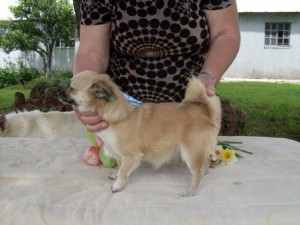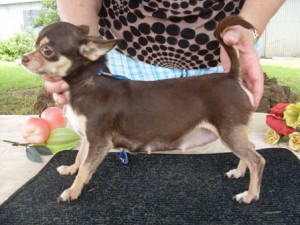 Recent Posts
Regsitration Papers
All puppies come with registration papers, please let us know if you have not received yours.