About Miniature Dachshunds
Dachshund, Daxie, Weiner Dog, Hot Dog, Sausage Dog, Worshond, Worsie
Breed
The Dachshund is a hound breed. Standard Dachshunds were bred to flush badgers, while the Miniature Dachshund was bred for rabbit hunting.
History
The modern Dachshund originated in Germany, and references to the breed can be found in books dating back to the early 1700s. Originally much larger than they are today, breeders succeeded in giving the breed shorter legs that were more suitable for digging.
Although there are a variety of coats and Standard and Miniature Dachshunds sizes, Santitia kennels breed long-haired, and short-haired Miniature Dachshunds.

Description Miniature Dachshunds
long and muscular with short legs
long head with dark eyes and long ears
short, long, or wiry hair
Coat colour – solid tan or yellow, bi-colored black, brown, gray, or chestnut, and piebald, speckle-streaked, or harlequin. The term 'Dapple' describes Dachshunds with merle coloration
less that 5 kg's and about 17 cm high at the wither.

Care and Feeding
Many breeders suggest feeding Dachshunds puppy food throughout their lives. Their diets should include horse meat, beef, wheat, and yellow corn. Care should be taken to avoid overfeeding, as these dogs are prone to obesity. Dachshunds need regular checkups to keep them healthy.
Coat care
Grooming requirements depend on the dog's coat. Long-haired Dachshunds need daily brushing. Wire-haired Dachshunds should be brushed regularly and trimmed twice a year. Short-haired Dachshunds can simply be rubbed down with a damp cloth.
Dachshunds shed moderately, so regular vacuuming is required. They also have a bit of an odor, necessitating regular shampooing of the carpet and cleaning of furniture.
Housing
Dachshunds are usually kept indoors, and will do well in a small space. They are active indoors and out.
Social Behaviors
Dachshunds are friendly and outgoing, and they get along well with familiar people. They are best suited to adults and older children. Dachshunds get along fairly well with other pets, but may become jealous of them.
Handling
Dachshunds are willful dogs, and they require consistent training. They are difficult to housebreak.
Dachshunds need daily walks and play sessions to keep them healthy and at an optimal weight. These dogs can injure themselves by jumping around too much, so it should be discouraged.
Common Health Problems
The most common health concern for Dachshunds is back problems. Intervertebral disk disease is quite common. Their long spines are easily injured, so it is important to take precautions to prevent them from getting hurt.
Content used from www.dogs.animal-world.com.
CONTACT US
Chihuahuas and Miniature Dachshund


Sandra Nieuwoudt
Tel. 0825502476
Fax. 0865642264
sandrade@telkomsa.net
KUSA membership 187574


OUR LOVABLE CHIHUAHUAS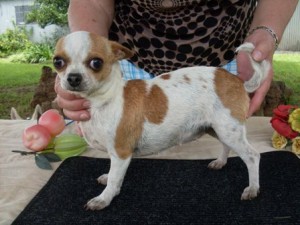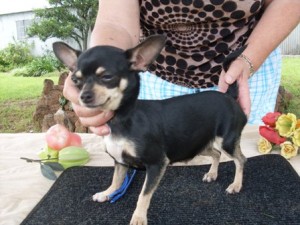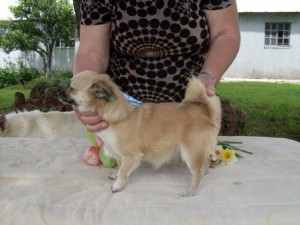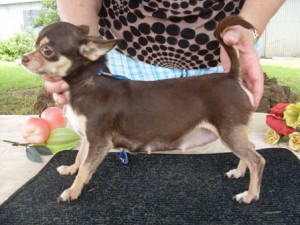 Recent Posts
Regsitration Papers
All puppies come with registration papers, please let us know if you have not received yours.